People responsible for online-communication know the problem: Too much content, and no scalable concept behind. As a student in the master «content strategy» I want to share with you how I think my contents can benefit from the concept of «intelligent content», and how I used it to develop ideas for the next web relaunch project.
What is Intelligent Content?
Ann Rockley and Scott Abel, authors of the book "Intelligent Content – A Primer" offer a concise definition of intelligent content in their smart blog article. Designed for reuse, structured in a way to enhance automatic content delivery and reusable for a maximum of content consistency and reduced resources for updating – there are a lot of ways how this kind of content puts a happy smile on a web redactor's face. And if you are in addition capable to store the content in a format free way and enrich it with semantic rich information called metadata, you are ready for whatever challenges come next, from reduced handcrafting of content deliverables up to fewer time-to-market delays.
Article about "The 5 Characteristics of Intelligent Content" published on Content Science Review
Read the book "Intelligent Content – A Primer"
Follow Scott Abel on Twitter
Follow Ann Rockley on Twitter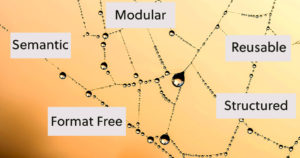 Like spider thread, your content pieces have to relate to each other. And if you manage to combine it with the five characteristics of intelligent content, you are ready to catch the user's' needs. Credits Picture Spider Web used from Pixabay under CC, combination with text is my own work
Why should you use intelligent content?
Carrie Hane investigates deeply into the advantages and answers questions such as the difference of an intelligent content system compared to a normal management system and the challenges of mastering the change of mindset in your organisation. Furthermore Hane provides useful questions to ask yourself before you consider to change your organisation's approach, e.g. a reflection about the CMS you need and how you can start.
Article about "Why You Need Intelligent Content Now" published on Spinsucks
Follow SpinSucks on Twitter
Carie Hane on LinkedIn
The following three key issues helped me really a lot when thinking about new ways to organize my content online:
Start small – You don't have to change the content universe at once. Already a first definition of content templates for the creation of new content can be an important step.
Free your content – Don't press it into preformatted, unflexible forms. Think modular and reusable to get the most of the effort you put into creation.
Technology is key – Not all CMS can handle intelligent content, and not all organisations need all features. Before starting a web relaunch, think about the content requirements of your organisation, and choose a corresponding CMS.
So start today and learn more about the benefits of intelligent content, its scalable model behind to meet the challenges of the future in terms of content creation.